OSHA Consultation, SHARP, and VPP
OSHA Consultation
The OSHA Consultation Section is responsible for assisting employers in complying with federal OSHA requirements and reducing work-related injuries and illnesses.
The section employs safety consultants, industrial hygienists, and supervisors who work only with industries and employers who request their help. Small high-hazard industries receive priority for services.
Consultants conduct either a partial or complete safety and health survey, as requested by the employer. The consultant also conducts any tests that are required, such as air sampling or checking electrical continuity. Upon completion of the survey and applicable tests, a written report is processed, and sent to the employer. The employer is then required to correct all serious hazards found by the consultant and notify the section when the corrections have been made. To request a consultation visit, complete the OSHA Consultation Request Form and fax or mail it to our OSHA Consultation Section, or call our office for assistance.
---
★ NEW ★ November 10, 2021★
COVID-19 Vaccination and Testing Emergency Temporary Standard
Click Here to review frequently asked questions regarding COVID-19 vaccination and testing emergency temporary standard from the United States Department of Labor's Occupational Safety and Health Administration.
---
For New Managers and Supervisors
We are proud to introduce our newest resource for new managers and supervisors: "Integrating Safety into Your New Management Role – How to Lead Safety From the Top Down" booklet.
On March 22, 2018, a Managers' Meeting was attended by those in top level positions with years of experience in various companies around our state and the meeting was held at the Arkansas Department of Labor and Licensing. The goal was to create a publication in order to help new managers. Ralph T. Hudson, Deputy Director, and Clark Thomas, OSHA Consultation Project Manager, Arkansas Department of Labor and Licensing along with Carlos Reynolds, Area Director, U.S. Department of Labor's OSHA initiated the meeting, in hopes of gathering enough information and opinions from various top managers to produce this guide.
This book was designed to assist new managers and supervisors concerning what steps they need to take to develop and maintain an effective safety and health system. Other information in the book includes why to budget for, support, and enhance a safety climate. This guidebook contains statements from these top managers and how they make an effective safety and health program a part of their company's policies and procedures.
We welcome and encourage you to use this booklet as a guide to aid you in your new management role.
You can preview the booklet here. To order booklets, complete the order form and e-mail, fax, or mail to:
Arkansas Department of Labor and Licensing
OSHA Consultation Section
Jeffery Huber
900 W Capitol Ave, Suite 400
Little Rock, AR 72201-3108
Jeffery.huber@arkansas.gov
Office: 501-682-4528
Fax: 501-682-4532
Amputation Prevention
In response to the alarming number of amputations in the United States as well as the National Emphasis Program, the Arkansas Department of Labor and Licensing/OSHA Consultation in partnership with the U.S. Department of Labor/OSHA and the SHARP/VPP Association developed the Amputation Prevention Information Booklet. This booklet is designed to be an aid for front-line supervisors and/or lead persons to assist them in communicating to the workforce on how to recognize and eliminate potential amputation probabilities in the workplace. There are seven different Amputation Prevention Information Booklets: Construction/Public Sector, General Industry I, General Industry II, Grain Handling, Die Casting/Metal Fabrication, Poultry, and Sawmills/Woodworking.
How to use your Amputation Prevention Information Booklet:
The booklet is intended to assist with conducting one-on-one training or group training concerning amputations. During the training, the instructor should communicate the following: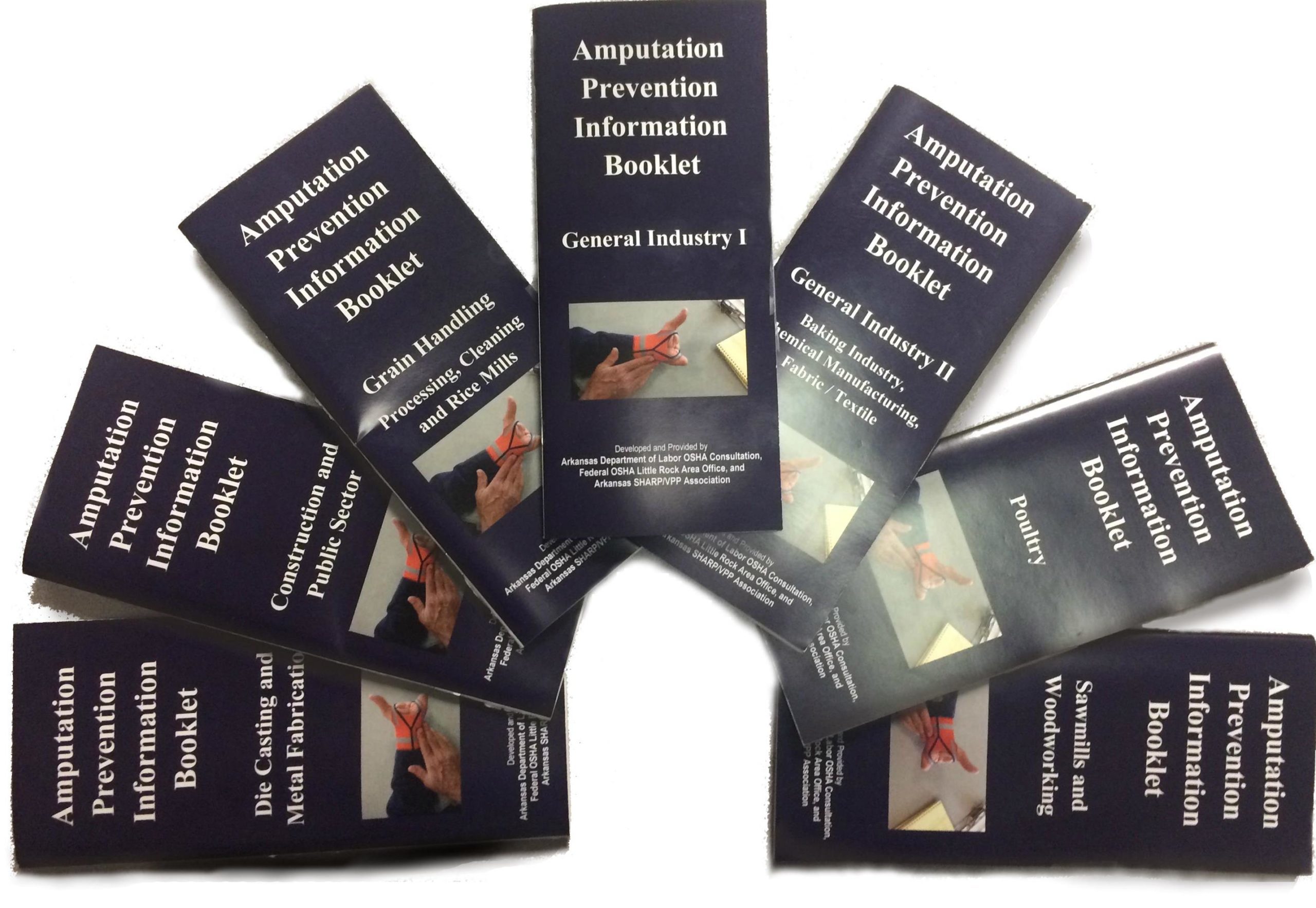 Identify the equipment
Identify body parts that may be amputated by that piece of equipment
Amputation preventive measures
The usage or non-usage of gloves or other personal protective equipment that may assist in amputation prevention
The need for development and use of lockout/tagout procedures
Provide specific talking points for discussion of amputation concerns
Identify preventive tools and/or devices that can be used to prevent bodily injury while working with specific machines.
Please fill out and fax, mail, or e-mail this Booklet Order Form, if you wish to have your own Amputation Prevention Information Booklet.
2021 Amputation Prevention Stand Down Information
The Amputation Prevention Stand-Down Kick Off event took place on September 1, 2021.
Kick-Off Poster | Kick-Off Brochure | Stand-Down Poster
An Amputation Prevention Stand-Down Award Luncheon will be hosted at J.A. Riggs Tractor Company and is sponsored by Helms Fertilizer Terminal, Inc.
Location: J.A. Riggs Tractor Co – 9125 Interstate 30, Little Rock, AR 72209
Date: November 12, 2021 | Time: 10:00 AM
If you would like to attend in person, please RSVP to juanita.matlock@arkansas.gov for the luncheon no later than November 9th by 3pm.
OR you can Join Us via Zoom, by Clicking Here @ 10:00 AM on November 12, 2021.
Meeting ID: 836 1907 5537 | Passcode: 854172
One tap mobile:
+13017158592,,82741291027#,,,,*854172# US (Washington DC) | +16468769923,,82741291027#,,,,*854172# US (New York)
Dial by your location:
+1 312 626 6799 US (Chicago) | +1 646 876 9923 US (New York) | +1 301 715 8592 US (Washington DC)
+1 346 248 7799 US (Houston) | +1 669 900 6833 US (San Jose) | +1 253 215 8782 US (Tacoma)
---
Requests for Free Consultation Services
The On-Site Consultation Program is a free and confidential consultation service largely funded by Federal OSHA. The On-site consultation is delivered by state governments using highly qualified occupational safety and health professionals to help employers detect potential hazards at their work-site, establish, and maintain a safe and healthful workplace. SHARP is a exemption and recognition program, administered by the Consultation Program.
---
SHARP – Safety and Health Achievement Recognition Program
The Safety and Health Achievement Recognition Program is designed to provide incentives and support to employers to develop, implement and continuously improve effective safety and health programs at their worksite. SHARP provides recognition for employers who demonstrate exemplary achievements in workplace safety and health. These companies are exempt from a general scheduled Federal OSHA inspection for one to two years.
Benefits of the SHARP Program
Lower injury and workers' compensation rates.
It helps improve productivity.
Higher profit margin for the company, so there's more money for employee salaries, facility improvements, etc.
Recognized as being a good/safe place to work.
Improves the relationships between employees and management.
Employees are more involved in safety and health programs and working with other employees on safety in the facility.
It helps develop a safety culture in your company.
Insurance renewals are easier and cheaper.
It improves customer respect.
It helps encourage companies to develop and maintain a good safety and health program.
Federal OSHA doesn't conduct general-category inspections.
Requirements
If you would like to participate in the SHARP program, please call our office at 501-682-4523 to ask questions or set up an appointment.
---
OSHA Standards
---
Other Services
---
Related Links
---
Contact Information
Clark Thomas, 501-682-4522
Janelta Pickett, 501-682-4516 for Safety Issues
Tonia Cooper, 501-682-4527 for Health Issues
Fax Number: 501-682-4532